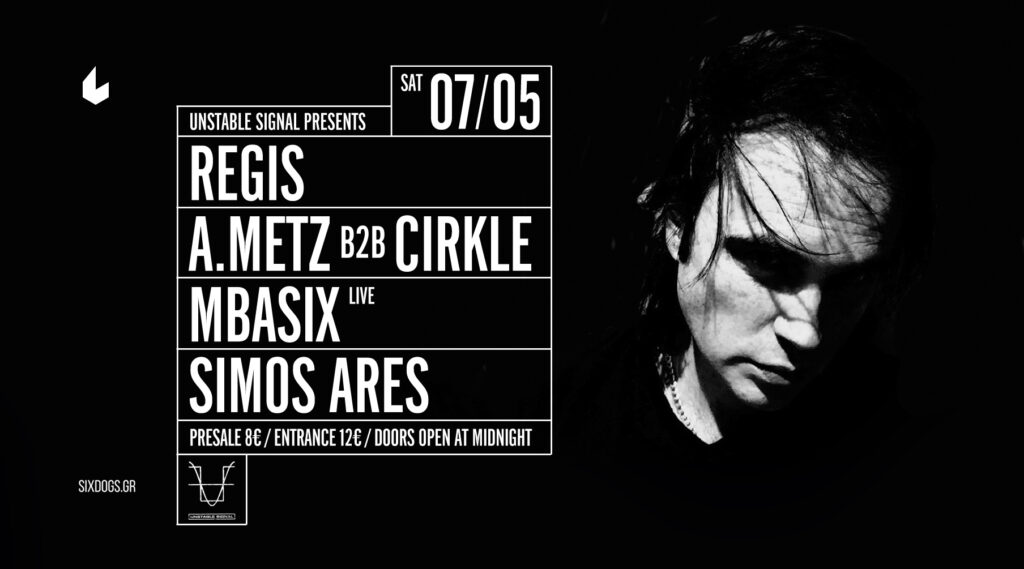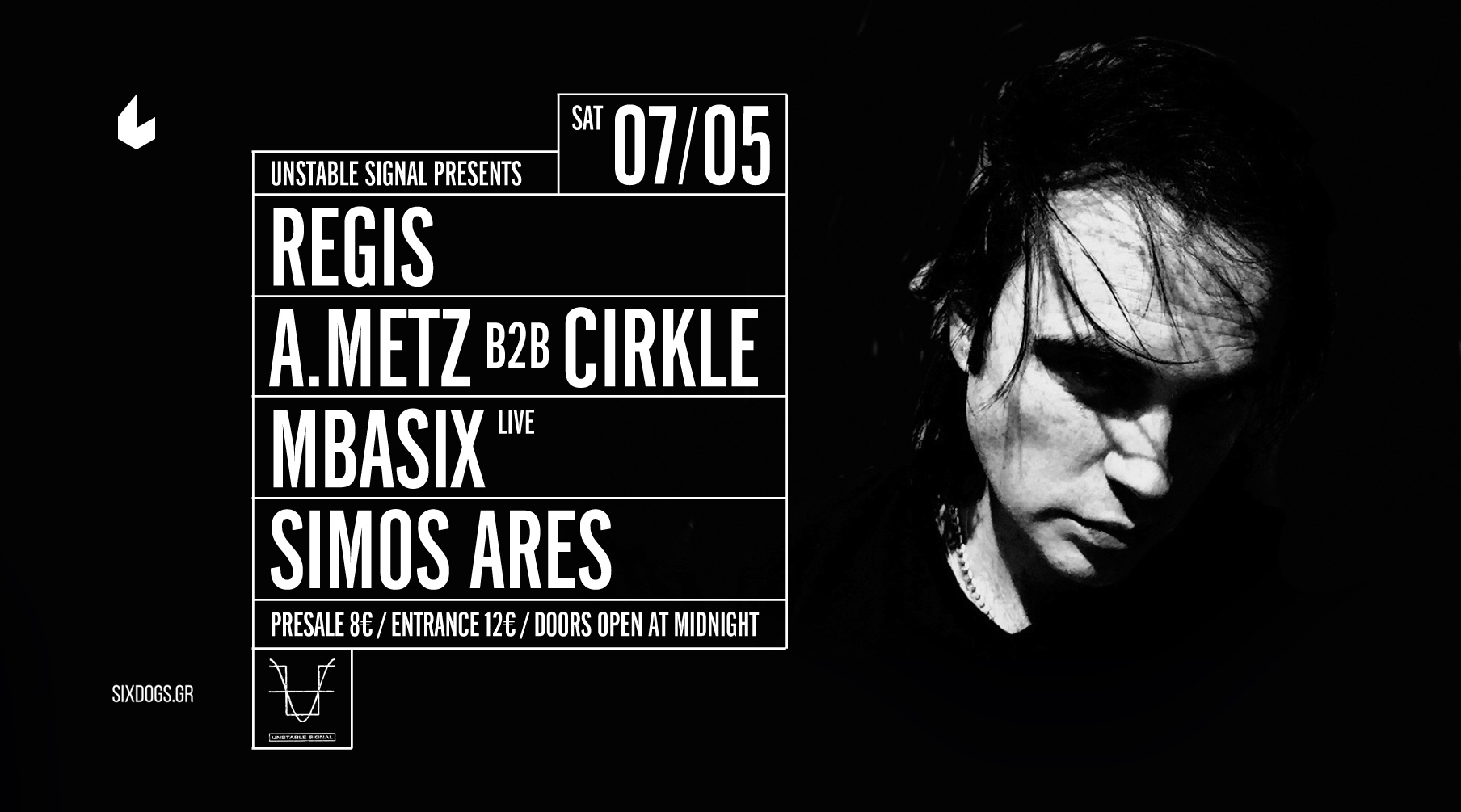 Unstable Signal w/ REGIS at six d.o.g.s
On Saturday the 7th of May Unstable Signal presents the legendary Regis at six d.o.g.s .
He is the co-founder of influential techno label Downwards and one of the most highly regarded creative impulses in the British electronic scene. Regis drives a surging, chaotic sound that aggressively bridges the gap between techno and post-punk.
In February 2022 the Horse Hospital presented the film 'Regis — Let The Night Return' (2021) by Vasileios Trigkas. It is a unique one-off performance by Regis at the Ancient Theatre of Epidaurus in Peloponnese, Greece, a remarkable UNESCO world heritage site devoted to Asclepius – Greek god of medicine and healing. Also featuring on piano Ann Margaret Hogan, soundscapes by Vasileios Trigkas and additional guitar by Justin K Broadrick.
As a fully versatile artist presenting his solo works, collaborations as British Murder Boys, Sandwell District, Ugandan Methods, O/V/R, or his label, he remains one of the more highly rated forces within the British techno/electronic music.
Following on with the line up we welcome for the first time at Unstable Signal events one of the best b2b by the VLCT residents A. Metz and Cirkle.
Cirkle Born and raised in Greece! He is one of the most promising artists, who emerged out of Greek's electronic scene. His releases got attention by artists such as Ben klock, DVS1, Marcel Dettmann, Laurent Garnier, Rodhad and many more. Nowadays he is doing a collab project with his buddy Altinbas and releasing music in labels like Token, Sk11 and Voltage.
Born and raised in Athens, A.Metz was exposed to dance music from an early age. His dj sets are celebrated by techno lovers as extremely forward-thinking and musically well constructed.
In that event we will also have the Unstable Signal resident DJ, Simos Ares who is playing electronic music since 1998. He moved through different genres, Techno, Acid, Chicago & Breaks. He is co-founder of the non-profit project KAWRS and also running his own record label MOREGENRES. Catch him on a monthly basis on Fade Radio & Movement Radio.
Along with them MBasix the founder of Unstable Signal, who after a significant presence in the underground Greek Rock and Jazz scene as a musician, he dived into Electronic music and has released his music on labels such as EMI, Warner music, Subsist Records, Advanced, Distrophonix, Pegasus Records, Anazitisi Records etc. His recent release on Subsist Records called 'A CZone in Hell', includes a remix by the great Swedish duo SHXCXCHCXSH.
Line up
Regis (Downwards)
a.metz b2b Cirkle (VLCT)
MBasix (Subsist, Unstable signal)
Simos Ares (MOREGENRES, Unstable Signal)