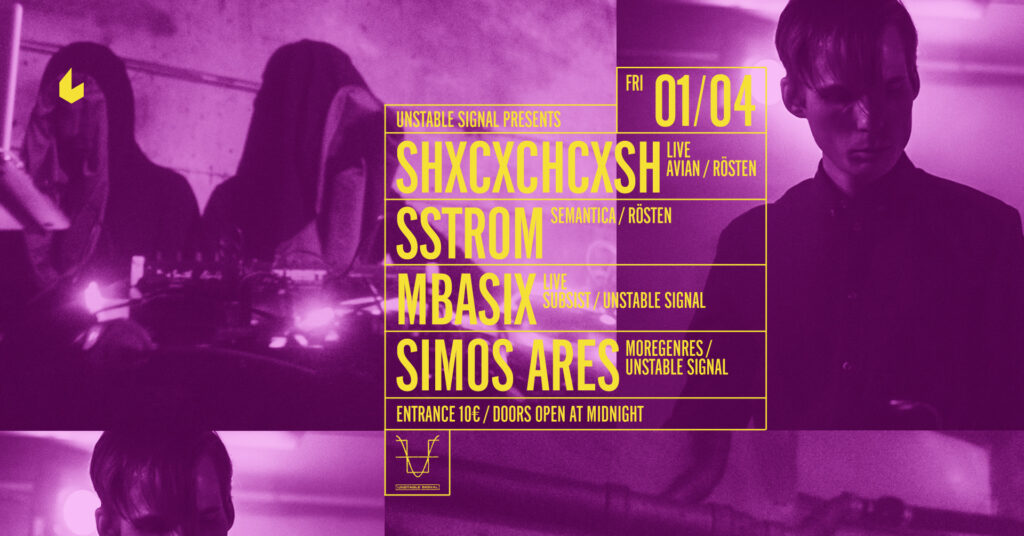 Unstable Signal w/ SHXCXCHCXSH, SSTROM, MBASIX, SIMOS ARES at Six D.o.g.s.
Unstable Signal strikes back, making its debut at Six D.O.G.S. with a huge event, presenting the great SHXCXCHCXSH and SSTROM. The return of the Athenian audience's beloved Swedish duo SHXCXCHCXSH will take place on Friday the 1st of April 2022.
SHXCXCHCXSH has become synonymous to haunting and abstract experimental techno. With the intricate balance between light and dark as well as the realms of drone, noise and techno their productions must be described as versatile and broad. After releasing on Semantica and Subsist, SHXCXCHCXSH found a home in Avian and Mord. They have also released their music on Falling Ethics, UTCH Records, Rösten etc.
In that event we will also have SSTROM for the very first time in Greece. It is the solo project of Hannes Stenström, the one half of SHXCXCHCXSH. SSTROM music shows his rhythmic and improvisational side retaining the atmospheric elements of SHXCXCHCXSH.
Following on with the line up, the very experienced and well known Athenian DJ Simos Ares takes over action as a new resident of Unstable Signal. He is co-founder of the non-profit project KAWRS and a former member of Cannibal Radio, who also runs his own record label MOREGENRES.
Along with them, MBasix the founder of Unstable Signal, who after a significant presence in the underground Greek Rock and Jazz scene with some of the most important groups as a musician, he dived into Electronic music in the early 90's and has released his music on labels such as EMI, Warner music, Subsist, Advanced, Distrophonix, Pegasus Records, Anazitisi Records etc. will present his new album released by Subsist Records.