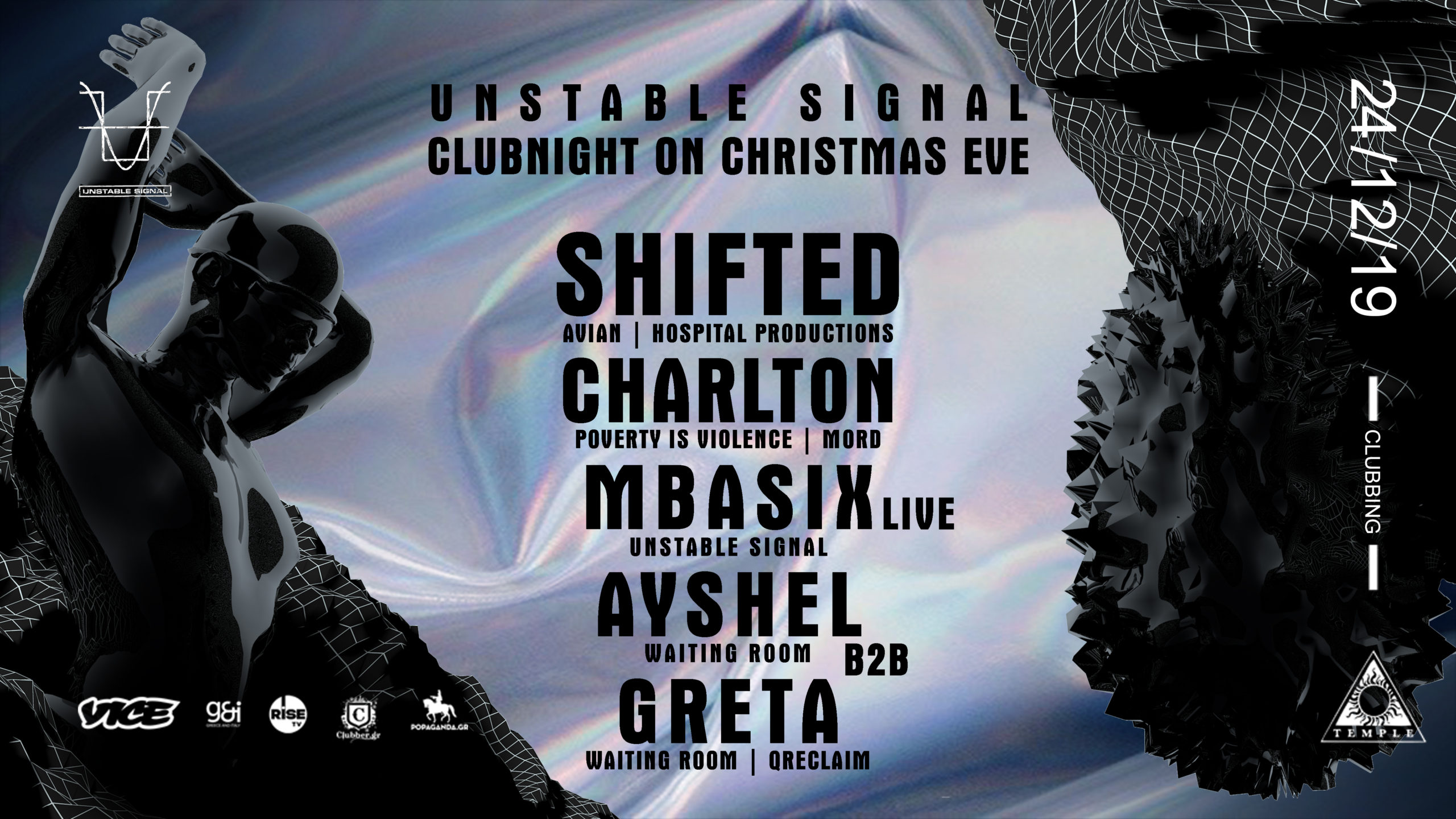 Unstable Signal with Shifted and Charlton on Christmas Eve

| | |
| --- | --- |
| | December 24, 2019 |
| | 11:55 pm |
| | Athens |
| | Temple Athens |
| | |
After the successful season club opening at Temple Athens with James Ruskin and the 12 hour music Marathon with The Hacker, DJ Stingray and Drew Mc Dowall, Unstable Signal strikes back presenting a clubnight with some great artists such as Shifted, Charlton, MBasix, Ayshel and Greta on Christmas Eve at Temple Athens.
As a producer, DJ & label head, Shifted has carved a unique space for himself within the field of modern electronic music – working diligently at the fertile juncture between Noise, Ambient & cutting edge, contemporary Techno. His music has been released on labels such as Avian, Bed of Nails, Drifting Over etc.
Charlton's inventive style of producing tracks combines techno from "the old days" with his own dark off-beat rhythms resulting in a great sound. His tracks have been released on labels such as, Audio Assault, Arms, Labrynth, Aftertaste Pohjola, Krill music, and Mord.
Ayshel is a new but well known from her participation at many parties, Athens based DJ. She is a co-founder of the project Waiting Room who after her great debut at Temple Athens, will present a new DJ set b2b with Greta. Looking forward to this.
Greta is based in Athens, Greece and will make zis debut at Unstable Signal events. Ze is an up and coming, very talented and versatile multimedia artist, resident of the infamous Qreclaim parties and co-founder of the project Waiting Room who also runs zis own project named Eremus.
Along with them, MBasix the founder of Unstable Signal. After a signifigant presence in the underground Greek Rock and Jazz scene with some of the most important groups as a musician, he dived into Electronic music in the early 90's and has released his music on labels such as EMI, Warner music, Advanced, Distrophonix, Pegasus Records, Anazitisi Records etc. He will present new material in his live set.